---
Stainless, Extruder 25#

Comes with 8 coil, 2 oval, 1 hex., 1 sq. and 1 blank dies.
---
Accessary Die Kit

Includes 2 hex. tubes, 2 rd. tubes, 2 sq. tubes, 2 ribbon, 4 coil dies.
Tile Die Kit # 3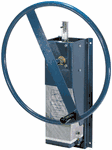 ---
Big Blue Extruder

Ok, yaw asked for it ! This big bad beautiful baby holds 25# of clay, yields extrusions up to 5". Barrel, comes with 3 dies and a wagon wheel to do most of the work. Arrives in two ctn. 40 and 10 lb. Come on in and take a look "if you dare" we got it on display in a steel cage so it can't getch ya.