Model 760 - 00
This has a undivided tarebeam to counter balance any size container up to 180 grams. It has a rust proof stainless steel plate and all of the standard features. Will weigh as little as 1/10 of a gram up to 610 grams. Optional attachment weights increase this to 2610 grams. Jellybeans are just a come on.

Model 720 with Scoop
Same as the model 760-00 but with a removable plastic scoop. Also features a spring loaded zero adjust compensator.

Digital Scale CR5200
Lightweight, portable scale. Perfect for weighing oxides and small test batches of glaze. Capacity is 5200g (11 lbs.), readability is 1g. The plastic weighing platform can be removed for easy cleaning. Powered by the three "AA" batteries (included) or with the AC adapter, not included.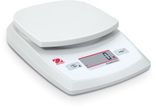 Digital Scale CR 2200
Small portable and lightweight scale. Great for weighing out oxides, metals, or PMC. Capacity is 2200g (4.4 pounds), readability is 1g. Runs on three "AA" batteries (included).

Digital Scale CR621
Small, portable, lightweight digital scale, which has readability of .1g is best suited to test glaze batches. Capacity is 620g (1.3lbs). Runs on 3 AAA batteries, included.

Calibration weight
2kg brass/aluminum precision weight. ASTM class 6 adjustment tolerances. For calibration of digital scales.