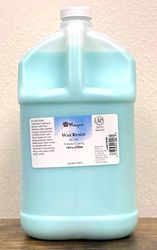 Apply on piece where you do not want glaze to adhere, let dry and glaze. Be sure to sponge off any glaze that beads up, on the wax. Hot water and soap is all that is needed to wash out your brush. Although washing cleans the brush, we recommend that you designate one brush to only be used for applying wax resist.



Mayco Wax Resist



Mayco Wax Resist - Gallon



Black Wax 4oz



Use this to create black lines that resists your glaze.